WHERE TO BUY THESE
Filed Under:
Air Max
|
Sneaker Collection
|
Sneaker Videos
|
Top 3 Airmax
September 10, 2017
I've done a few reviews on this model before, but the most well-known pair out of my collection would probably be the Nike Air Max 1 QS Sport Red. This shoe is a 2009 release and a retro of an OG colorway. Sometimes there is nothing like a pair of basic Air Max 1s, and these add in the OG factor to fit the bill perfectly. While dope Air Max 1 colorways drop all the time, these are my most prized pair.
What To Sport These With?
Either dark or light wash jeans work with these. One of the beautiful aspects of the shoe is that damn near any outfit would work. You could even throw on a bunch of blue stuff and it would contrast perfectly with the shoe. Feel free to go crazy and maybe just avoid wearing too much red with these.
How Are The Materials?
The quality on Air Max 1s is definitely hit or miss. I think Nike did not pay attention to quality at all in 2009. These reflect that business model. The suede has the dreaded felt texture which at this point has taken on a vintage feel. These improve over time but the materials wind up being passable at best.
How Do They Fit?
These Nike Air Max 1 QS Sport Red fit true to size and are very comfortable. AM1s with stiffer materials wind up not being that comfy, but mesh and suede pairs are usually easy to rock. Overall, these are a great looking shoe with solid support and I recommend these kicks to fans of Air Max 1 history that want an attainable and wearable pair in an OG colorway!
Where To Cop the Air Max 1 QS Sport Red
As of the writing of this article, eBay is your best bet for these.
Watch out for fakes! If you just want a new pair of Air Max 1s, you can find them at any of the following links: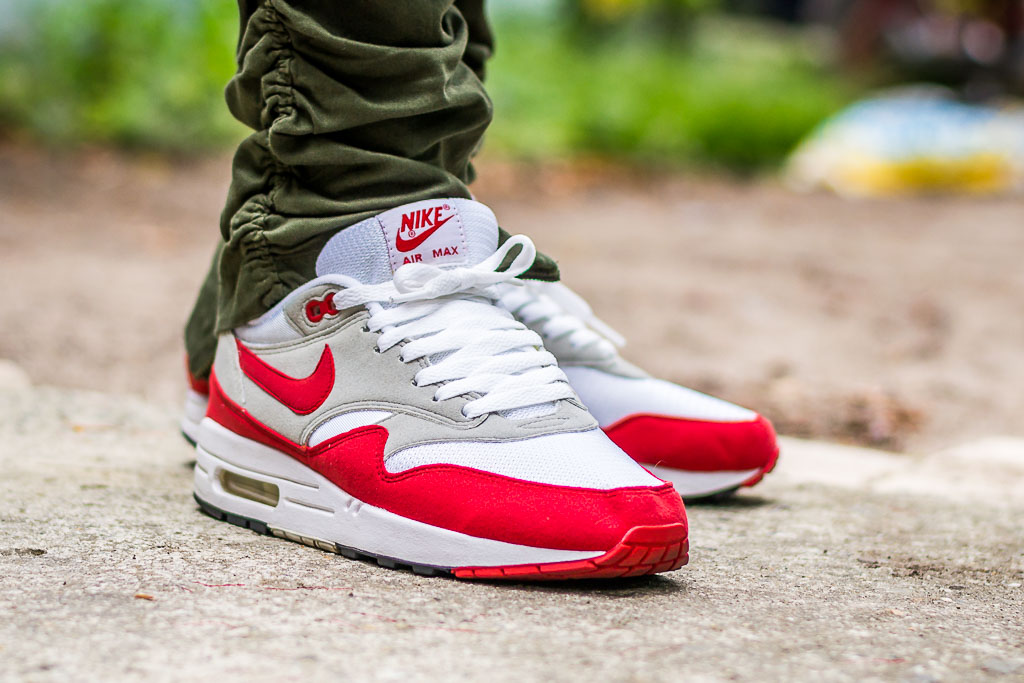 Air Max 1 QS Sport Red
Colorway: White / Sport Red – Neutral Grey – Black
Style Code: 378830 161
Year of Release: 2009