WHERE TO BUY THESE
Filed Under:
Sk8-Hi
|
Sneaker Collection
|
Sneaker Videos
|
Vans
November 18, 2017
I almost forgot I copped these! I've been selling a few pairs and shuffling my collection around and stumbled on these Vans Sk8-Hi Premium Leather Black as I was moving stacks around. Good thing too, as it's raining out and these look like they'll hold up! These are some very basic Sk8-His with one twist – upgraded materials!
What To Sport These With?
This is a black and white shoe, so putting together outfits is a real no-brainer! I'm going with a blacked-out fit today but I could just as easily wear a lighter colored ensemble if I wanted. There's no limits to what you can wear with a shoe like this, as long as you avoid weird pants colors like dark brown. One tip is to wear something bright up top to give your outfit some kick, even if it's just an accessory.
How Are The Materials?
Like other premium Vans, the leather on these is top notch! You can see all the grains and the texture is soft. These are really awesome and definitely live up to their name. If you want a good leather pair to keep on hand to reference what premium leather should be, these are a sureshot way to achieve that. Anyone that cops these should be pleasantly surprised by the quality, especially for the price.
How Do They Fit?
The Vans Sk8-Hi Premium Leather fit true to size and have a snug but comfortable fit. I have a feeling that sizing down will result in some murdered pinky toes so I would avoid that. On the other hand, sizing up on Sk8-His can result in your feet looking like boats. Try to get your true size if possible. These lace up pretty high, so they provide a lot of comfortable support when properly sized. The soft leather even helps lessen the break-in period!
Overall these are a good "basic" shoe to keep in any collection. Its like, if you want some basic Vans, only better, look to their premium leather pairs and you won't be disappointed!
Where To Buy the Vans Sk8-Hi Premium Leather Black
As of the writing of this article, you can find these on Amazon and eBay
.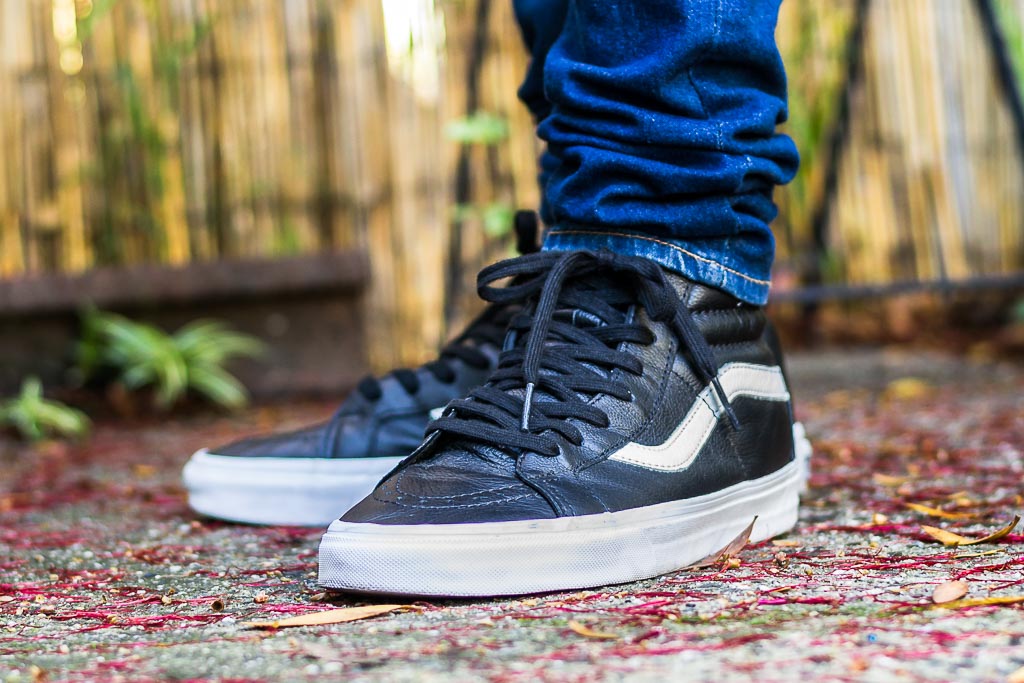 Vans Sk8-Hi Premium Leather Black
Colorway: Black
Style Code: VN000ZA0EW9
MSRP: $75