WHERE TO BUY THESE
Filed Under:
Saucony
|
Sneaker Collection
|
Sneaker Videos
April 16, 2017
I've done the emerald and blue pairs and it's time to wrap up the trio with the Saucony Shadow 6000 Easter Egg Purple. It was only a matter of time before I completed this pack. I got these last because I have one minor gripe about these compared to the other two pairs. The laces don't match the rest of the shoe! The other two in the Easter egg-themed pack have perfect tonal laces but these have noticeably darker laces than the color used on the rest of the shoe. Other than that, these are frikkin' awesome, just like the other pairs!
What To Sport These With?

This is another pair that works good with either all-black or super neutral/light grey/white type colors. In this case, I went with a light grey hoodie, white layering tee and some light wash jeans. These help the kicks to really stand out without making it look like I'm doing way too much. I suppose the "Cam'ron" approach could also work here with an all purple outfit. I do believe that being a member of Dipset is a requirement to go that route though 🙂
How Are The Materials?
The materials on premium suede 6ks never disappoint. Buttery suede covers the upper. The construction is solid and almost perfect. You will not be mad in the least at the quality of this shoe, especially for the prices these are going for. I can't believe such premium sneakers are getting slept on all over the world!
How Do They Fit?
The Saucony Shadow 6000 Easter Egg Purple fit true to size and are very comfortable. One of the reasons the Shadow 6k is my favorite shoe model right now is the shape. It has that dope pointy toe'd retro runner shape that slopes like an aesthetically-perfect wedge on foot. I highly recommend picking up at least one pair out of this pack before the prices start to go back up.
Where To Buy the Saucony Shadow 6000 Easter Egg Purple
As of the writing of this article, you can find these at any of the following links for below retail: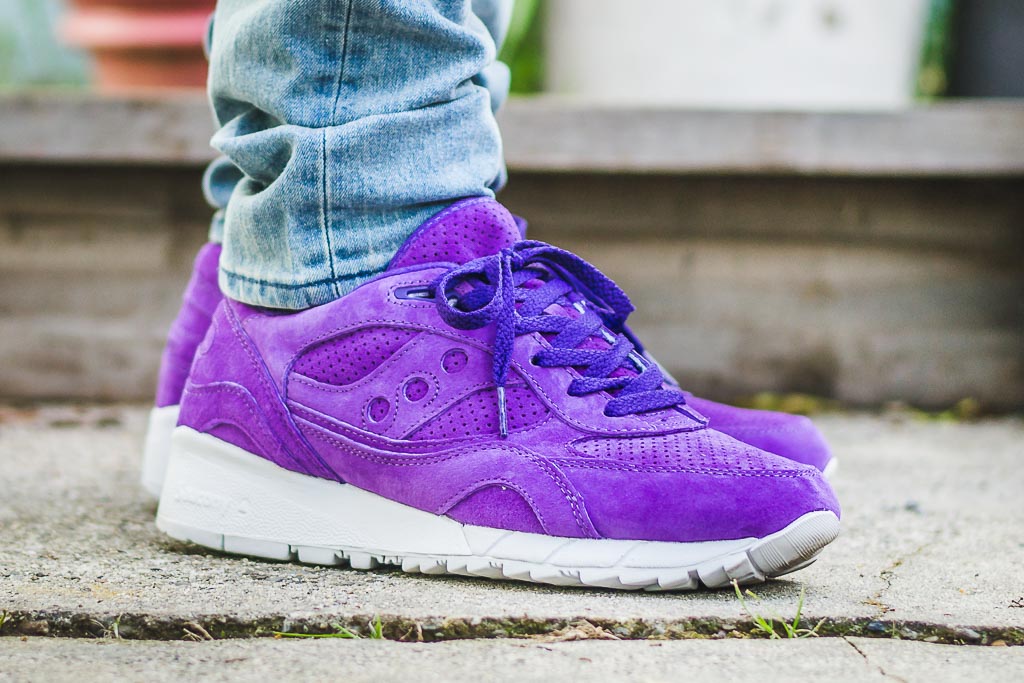 Saucony Shadow 6000 Easter Egg Purple
Colorway: Purple
Style Code: S70222-3
Year of Release: 2016
MSRP: $120