WHERE TO BUY THESE
Filed Under:
Saucony
|
Shadow 5000
|
Sneaker Collection
|
Sneaker Videos
December 10, 2017
What happens when "the people" create a shoe? You wind up with something like the Saucony Shadow 5000 Extra Butter "For The People"! The public cast their votes as to what the collab between Extra Butter and Saucony should be based on, and a 1950s car was the result. This shoe definitely does a good job of sticking to the theme, not only on the shoe itself but on the packaging and extras. These feature Extra Butter branding on the tongue tag, insole artwork and the rear of the shoe.
What To Sport These With?
These are comprised of mostly light colors, so I went with an overall light palette for the fit. I feel like these have so much going on that I didn't want to wear anything else flashy at the same time. I'm keeping it simple here with a grey Polo hoodie layered over an elongated tee and some light jeans. I could have also pulled a complete reverse with a black outfit to make these really pop.
How Are The Materials?
The materials on these are insane! Rather than take a simple approach like the recent Bodega Elite 5ks, these have a crazy mix of textures. The teal on the toebox and side panels are an extremely high quality suede that is very soft and buttery. The other light blue parts of the shoe and the tan ankle liner are a very soft and supple leather. The white parts on the rear of the shoe are patent leather and we have some 3M in the dots on the logo on the side and on the rear of the shoe. All of the materials match the theme perfectly!
How Do They Fit?
The Saucony Shadow 5000 Extra Butter FTP fit true to size and are quite comfortable. That said, I went half a size down and they still fit great! The soft leather gives these lots of give so if you prefer a snug fit, you can do it without fearing pinky toe pain. The nature of the suede, piping and leather around the toebox does take away from the pointy toe shape that many people adore on the 5k, but that is probably the only negative I can think of about how the shoe looks on foot. The trade off is worth it to get a shoe that is this thematic and has quality materials to boot.
Where To Cop the Saucony Shadow 5000 Extra Butter
As of the writing of this article, eBay is your best bet for these.
If you want a different colorway or a newer pair of 5000s, check out my guide on where I cop all my new Sauconys.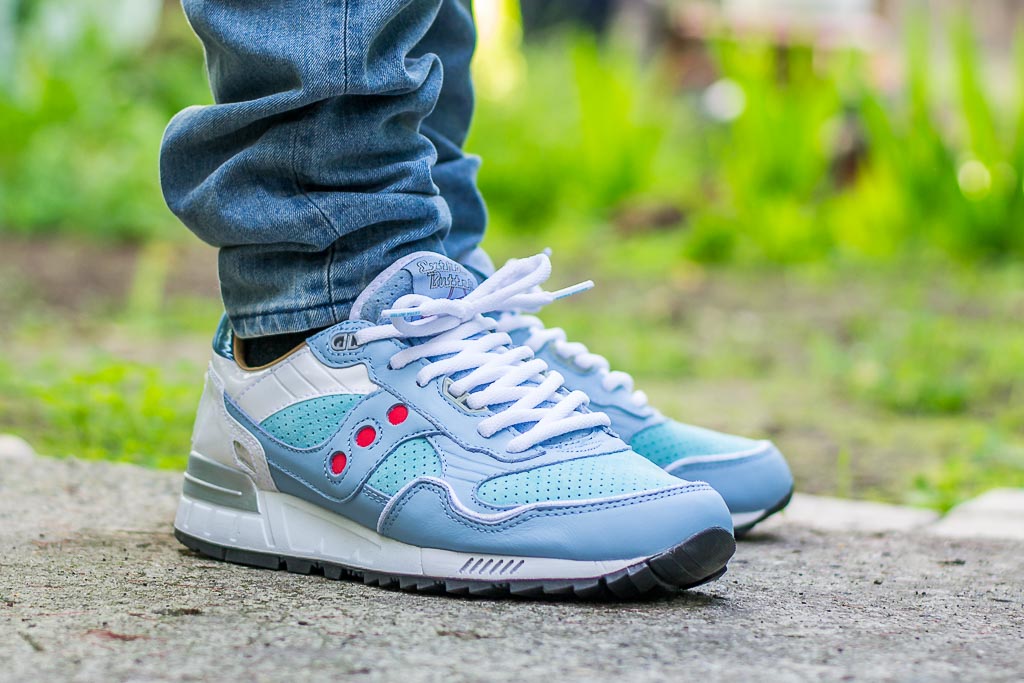 Saucony Shadow 5000 Extra Butter
Colorway: Blue / White
Style Code: S70337-1
Year of Release: 2016
MSRP: $120