WHERE TO BUY THESE
Filed Under:
Reebok
|
Reebok Classics
|
Sneaker Collection
|
Sneaker Videos
November 10, 2017
When it comes to what kicks to wear on vacation, I'm looking for cheap and mostly black. The Reebok Classic Nylon Black White fits the bill. I can replace these for like $40-50 and the mostly black upper won't show dirt or wetness that much. Reebok Classic Nylons are some great low cost kicks and among the first well-known Reebok runners to become widespread in popularity.
What To Sport These With?
Since these are mostly black with white accents, they are great paired up with either really light or really dark colored outfits. You can also mix and match though. Today for example I did a black top and light blue denim. An outfit like that helps these really pop for such an otherwise plain shoe.
How Are The Materials?
Like other low end Reebok Classics, the materials on these aren't anything special. The price does reflect the quality. That said, the construction is solid and I don't see any glue stains or off stitching. So, you get a decent quality shoe overall for the money.
How Do They Fit?
The Reebok Classic Nylon Black White fit true to size although a half size down is possible thanks to the amount of give in the toebox. The shoes are very comfortable and simple. These also provide a really dope silhouette and are among my favorite pointy-toed runner shapes.
Sometimes I get kicks for the sole purpose of beating them up. These will keep me looking fresh even as they get hit with barrages of rain and mud. Since I'm not really worried about the suede being lush or premium, I'll probably just clean them like I would some leather when I get back – regular soap and water. I highly recommend these as comfy, great looking, low cost shoes anyone can rock easily!
Where To Cop the Reebok Classic Nylon Black White
As of the writing of this article, you can find these on Amazon or eBay
.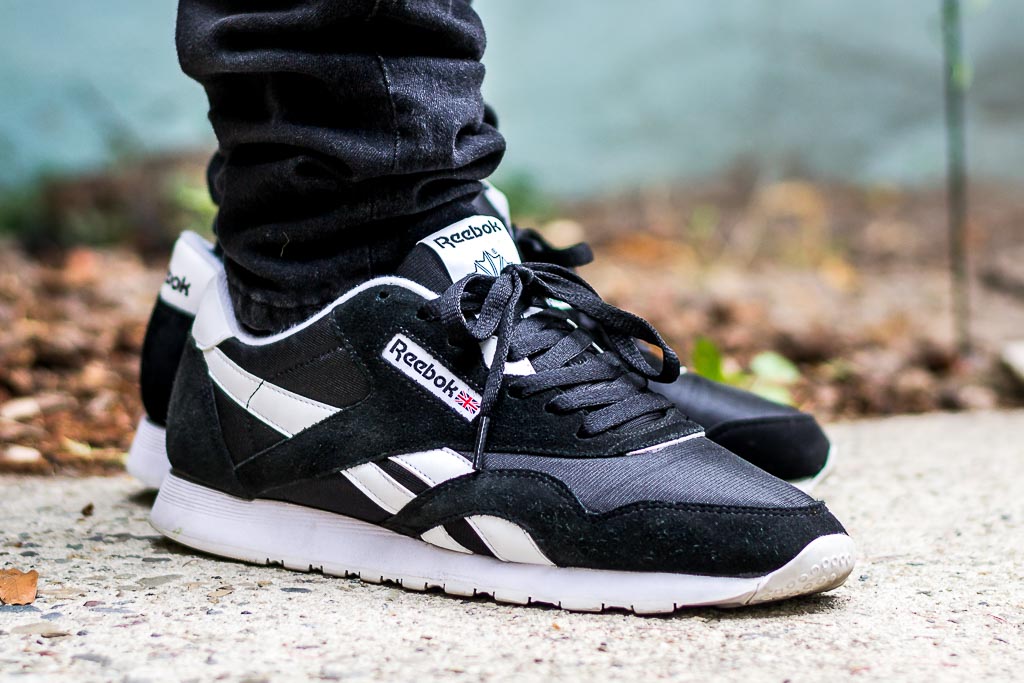 Reebok Classic Nylon Black White
Colorway: Black / White
Style Code: 6604
MSRP: $60