WHERE TO BUY THESE
Filed Under:
Nike SB
|
Sneaker Collection
|
Sneaker Videos
June 28, 2017
Chinese hip hop artist Deng Ke Chow helped with the design on the pink box classic Nike Dunk SB Low Shanghai, showcasing a lot of important Chinese references for the inspiration of the shoe. The red and gold colorway are classic representative colors of the country and the Chinese letters for Shanghai are incorporated into the tongue tag. Finally, the embossed pattern on the suede is drawn from the temples around the city of Shanghai. All in all, this shoe is definitely unique, rare and thus sought after by SB heads everywhere.
What To Sport These With?
These will work with khakis, light or dark wash jeans. Regardless, I stick with a grey top on these. The shade of pants helps determine the shade of grey used. I've also worn these with a burgundy hoodie but it takes a bit away from the shoe.
How Are The Materials?
These definitely have that pink box vibe and quality. The suede and leather are definitely heavy duty and have a rugged yet lush quality to them. The gold paint on the swoosh can turn green over time, but other than that these age fairly well. The pattern on the suede can come off if these are cleaned or even rubbed too much in any one area, so although the materials seem solid, it is best to avoid touching or scuffing the suede too much on these if preserving the temple pattern is important to you.
How Do They Fit?
The Nike Dunk SB Low Shanghai fit true to size and are super comfy. As with most SB releases from this era, the shoes fit fairly reliably and are almost universally cushy, even though they all look so unique and are made of many different material combinations. The suede on these gives just the right amount of give that lessens break-in time and makes these a great shoe overall in terms of comfort.
Where To Cop the Nike Dunk SB Low Shanghai
As of the writing of this article, eBay is your best bet for these.
Watch out for fakes! If you're having trouble finding them or just want something more recent, try checking out the selection of newer Nike SB's on Nike.com
or Amazon
.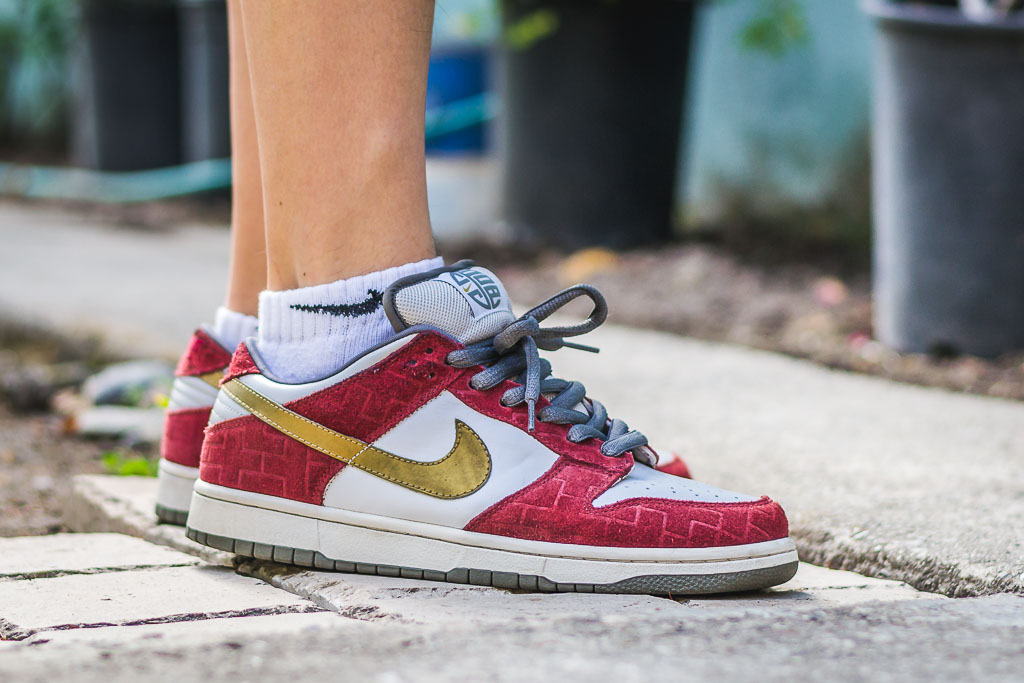 Nike Dunk SB Low Shanghai
Colorway: White / Metallic Gold / Redwood
Style Code: 304292 112
Year of Release: 2004