WHERE TO BUY THESE
Filed Under:
Nike SB
|
Sneaker Collection
|
Sneaker Videos
November 14, 2017
The Nike Dunk Low Pro SB C-Mon and Kypski is a collaboration with a dutch band of skaters that also make music. The colorway is supposed to be based off of the album art for "Where the Wild Things Are". There is a special print that shows through the clear sole as well as on the insole. Other details include a VU meter on the tongue and an image of a wav file on the outer rear.
What To Sport These With?

I suppose some light jeans would work with these, but your outfit will look meaner with some black denim. I went with black distressed denim and a grey t-shirt with black details. The black and white parts make for an easy match up, but I would avoid adding too much of the neon green into your outfit.
How Are The Materials?
The materials are leather and suede and are really top notch! The toebox leather reminds me of the Nike Dunk Low Cali. While the clear outsole and white stitching don't necessarily age the best, overall this shoe still exudes quality all these years later, especially for a black box dunk!
How Do They Fit?
The Nike Dunk Low SB C-Mon and Kypski is of course really comfortable although I feel like it does fit a tad big. I could have probably gone half size down and been ok. I feel like the materials do give these a bulky fit although they don't feel overly big or heavy to my feet.
As a musician myself, I feel like I HAD to cop this pair of dunks. All the musical imagery really represents a lot of what my life is about! Nike's musician collabs are typically dope and these are no exception!
Where To Cop the Nike Dunk Low SB C-Mon and Kypski
As of the writing of this article, these are available primarily on eBay.
. Watch out for fakes! If you're having trouble finding them or just want something more recent, try checking out the selection of newer Nike SB dunks on Nike.com or Amazon.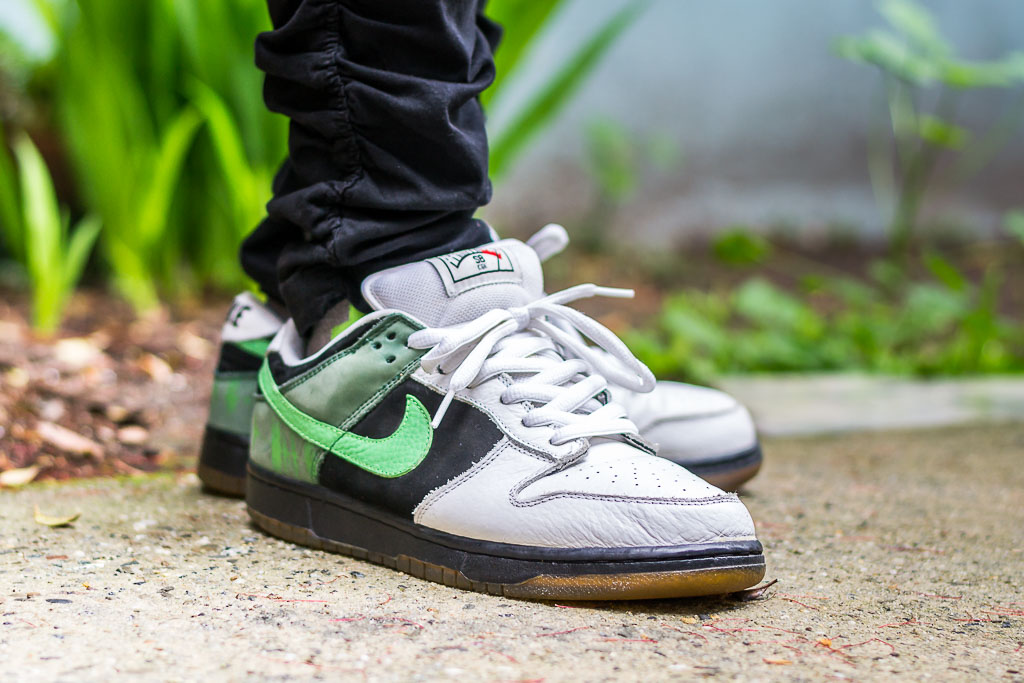 Nike Dunk Low SB C-Mon and Kypski
Colorway: Black / Acid
Style Code: 313170 031
Year of Release: 2007