WHERE TO BUY THESE
Filed Under:
Nike SB
|
Sneaker Collection
|
Sneaker Videos
March 13, 2017
The Pro B is a type of dunk that appeared in the early 2000s as some of Nike's first attempts at making the dunk into a full blown skate shoe. The Nike Dunk Low Pro B Plum and other from the line helped pave the way for the SB Dunk. This particular shoe is from the Ugly Duckling pack which also includes the green/purple Veneers and orange/grey Ceramics. Some lump Viotechs and Caves in with the pack. Although those are similar dunks, they aren't technically one of the Ugly Ducklings.
What To Sport These With?
These go great with some light denim and a white tee or some dark blue jeans and a dark top. This shoe is mostly dark so a darker fit will look more "together". A lighter fit can be used to make these pop. Since the toebox and side panel are a greyish purple, I'd avoid rocking these with too much grey.
How Are The Materials?
The materials are simple yet extremely high quality on these. The suede used on this shoe is virtually unmatched by almost any other dunk. Fans of buttery kicks should move these kicks to the top of their list as the quality is superb. These simply do not disappoint. When you hear dunk heads talking about the quality of sneakers in the good old days, they are talking about kicks like these!
How Do They Fit?
The Nike Dunk Low Pro B Plum fit true to size, however the soft suede toebox allows enough give to go down a half size if desired. These don't have a lot of fancy tech in them, but are still very comfortable thanks to the overall simplicity of the shoe. These are a shoe that won't make your feet look huge and clownish; rather they seem to fit any foot perfectly and look great on just about anyone!
I used to have the whole Ugly Duckling pack, but the Nike Dunk Low Pro B Plum is my favorite and the pair I decided to hang on to. The other 2 dunks are great in their own right, and I highly recommend grabbing at least one pair from the pack. Nike also released an SB dunk high based on this colorway, which I also owned at one point. Although those have a decent quality to them, I really just need these, so I eventually sold the SB's.
Where To Buy the Nike Dunk Low Pro B Plum
As of the writing of this article, eBay is your best bet for these.
If you're having trouble finding them or just want something more recent, try checking out the selection of newer Nike SB dunks on Nike.com or Amazon.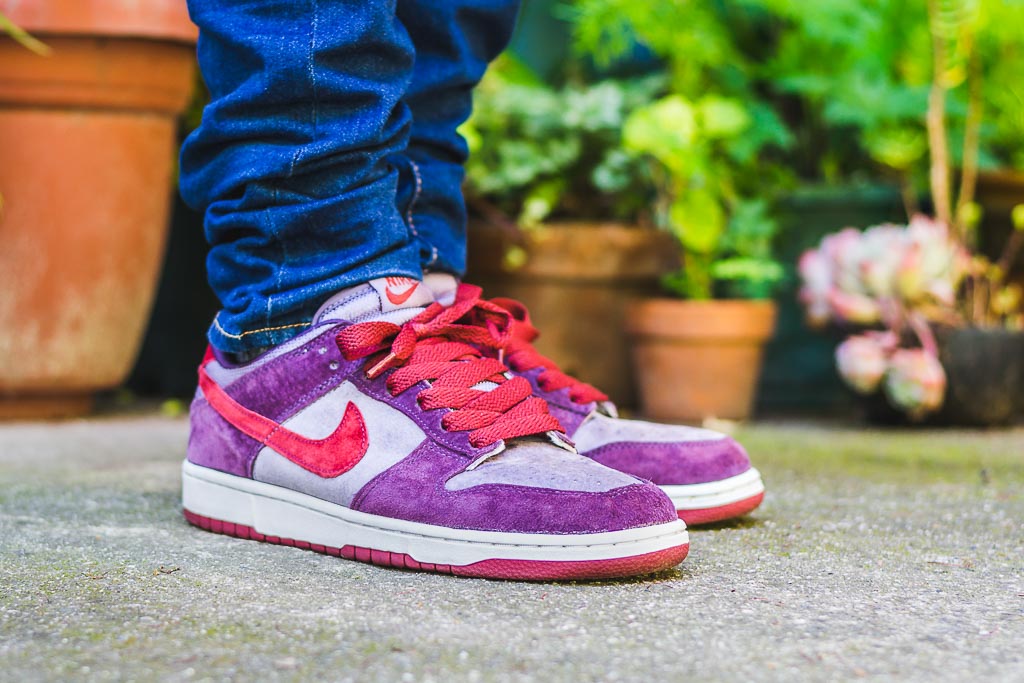 Nike Dunk Low Pro B Plum
Colorway: Daybreak / Barn – Plum
Style Code: 624044 561
Year of Release: 2001