WHERE TO BUY THESE
Filed Under:
Sneaker Collection
|
Sneaker Videos
March 16, 2017
I wanted the 1999 Michigans and couldn't find them, and I've struggled to find the BTTYS SB version. However, I was able to find this pair of Nike Dunk High Michigan from 2003 and I'm glad I did! These basically have the same colors as the Michigan Wolverines (or the Marvel character Wolverine), however I copped because I wanted something in Golden State Warriors colors (back in the day the dubs used a darker blue than they use today). Oddly enough, these came with tongue straps although they are not SBs…. Unfortunately the seller had cut the straps on my pair so all I have left are strap fragments in the box.
What To Sport These With?
I think dark and simple is the way to go here. Dark blue jeans and a simple black top will go a long way towards letting these pop. Matching up the navy or yellow is going to limit the overall effect of the outfit. A white top and dark blue denim can also work for taller folks.
How Are The Materials?
Similar to other dunks from this time, these are made from nice thick smooth leather. The construction on these is really basic but also really excellent. The shoe shape definitely makes me wish for the days when Nike made dunks that looked like this, expecially around the toebox area. Any way you shake it, the quality of leather used on these definitely trumps the leather most sneaker companies are using these days.
How Is The Fit?
The Nike Dunk High Michigan fit pretty big without the straps. I went half size down and they're still a tad roomy. If I had gotten them with the straps intact, the tongue would have a more snug fit and I probably would have been forced to find a pair at true size. As it is, these fit very comfortably and I have them laced tightly enough that a lack of straps is not an issue.
Where To Cop The Nike Dunk High Michigan
s of the writing of this article, eBay is your best bet for these.
Watch out for fakes! If you want some dunks that are more current and attainable, try Nike
or find some steals at Amazon
.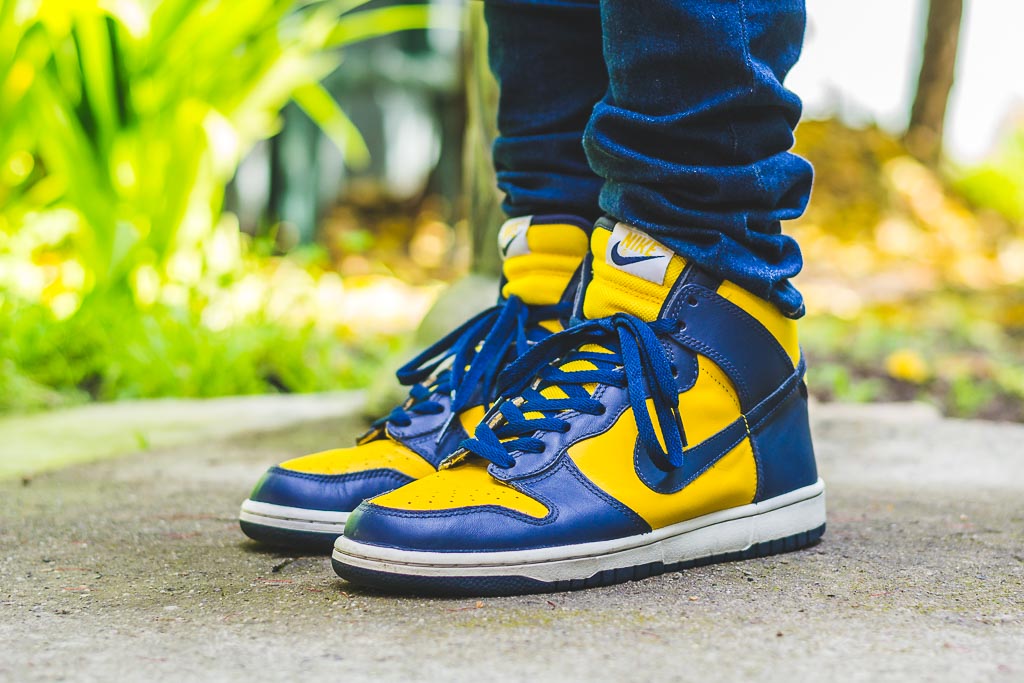 Nike Dunk High Michigan
Colorway: Midnight Navy / Midnight Navy – Varsity Maize
Style Code: 304717 441
Year of Release: 2003