WHERE TO BUY THESE
Filed Under:
Asics
|
Asics Gel Lyte 3
|
Sneaker Collection
|
Sneaker Videos
October 18, 2017
If you thought GR Asics were crappy quality, think again! These Asics Gel-Lyte III Green Suede are sleepers for sure, and dare I say "bangers"! I was so excited when these came in the mail and I saw what the color actually looked like up close. The shade of green used is like, the quintessential green color. These came out with a blue and red pair as a part of a "puddle pack" – I reviewed the blue pair a few weeks back. I gave these a reshaping as the toebox was a little blocky, but other than that, these are a damn near perfect green shoe to me.
What To Sport These With?
The green is tough to work into an outfit. The temptation is really strong to match it to something else green. I prefer to go off the beaten path and instead match the grey on the shoe. Surprise surprise, I like to go with a grey hoodie and light wash jeans with these. I also think a black hoodie and some dark jeans can work as well.
Materials
The suede on these is definitely a little rougher as some of the Shadow 6k's I've been reviewing, but it is a lot better than most of the other GLIII's I've done videos on. Of course you have some minor other materials on the Asics stripes and the 3M hits, but the main point of these is the suede!
Fit
The Asics Gel-Lyte III Green Suede fit a little snug at true to size, but not uncomfortable. These are also surprisingly lightweight and the support feels very solidly cushioned. Overall I highly recommend these as just a fresh shoe that has decent materials and is comfortable enough to wear around all day, while you look clean as hell!
Where To Cop the Asics Gel-Lyte III Green Suede
As of the writing of this article, you can find these on eBay.
These are also available on Amazon.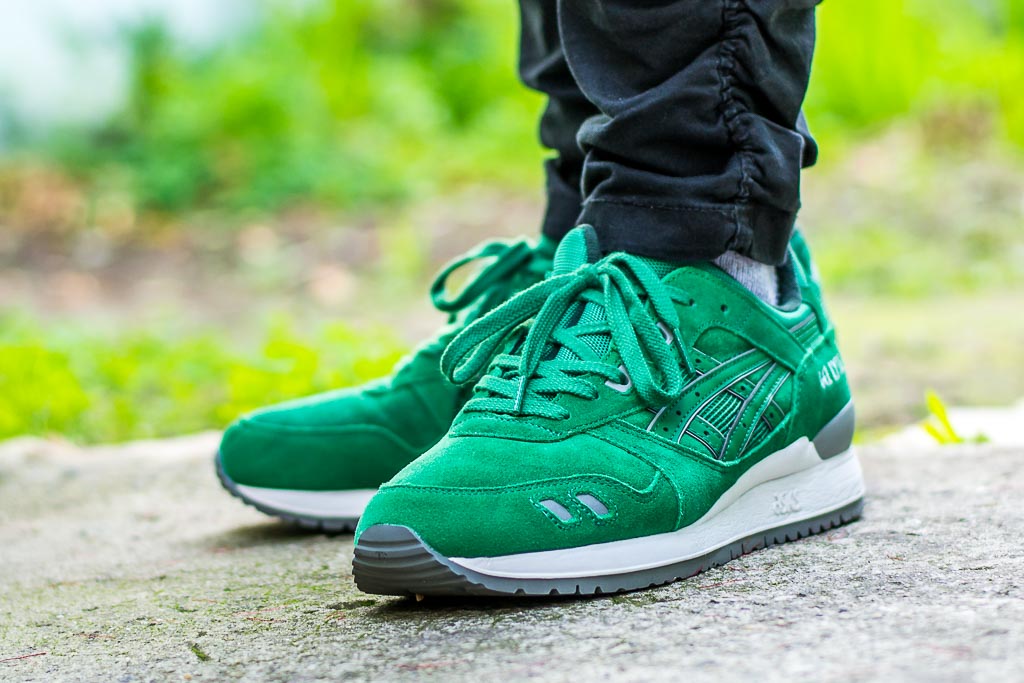 Asics Gel-Lyte III Green Suede
Colorway: Green / Green
Style Code: H5U3L 8484
Year of Release: 2015
MSRP: $100