WHERE TO BUY THESE
Filed Under:
Asics
|
Sneaker Collection
|
Sneaker Videos
February 11, 2018
You know how I do! I already reviewed one pair out of the Summer Pack and now I have the other half, the Asics Gel-Kayano Trainer Atomic Blue. These are basically the same thing as the other pair I reviewed, but with a palette-swap more reminiscent of the Marge Simpson Dunk SB's.
What To Sport These With?
These bright kicks deserve an equally bright outfit. I like to choose light colored denim and a white tee with a blue hoodie. To be honest, normally I'd be trying to minimize the outfit wackiness with a shoe like this, however this particular pair lends itself well to a loud graphic tee or something to add even more summery flair to the outfit.
Materials
When I decided to cop these, I mentally prepared for a nice mix of mediocre materials. I already knew the suede was not going to be that good, and can now confirm that to be an accurate prediction. These use rubber overlays for the Asics stripes and some mesh with 3M underlays on the sides and toebox. Overall I would say the material quality isn't superb but the mix of materials and the overall look of the shoe help make these shortcomings something I can ignore.
Fit
These Asics Gel-Kayano Trainer Atomic Blue fit true to size and are very comfortable. I'd classify the fit as snug but in a comfy way, kind of like a pair of Gel Lyte V's. I think this is due to the neoprene inner bootie tongue design. The shape on these is great, I barely had to touch the toebox to get these nice and pointy.
The "Summer Pack" is supposed to represent nice bright summery colors and I think these do a better job of that than the other pair. Regardless, I'm definitely adding the Kayano Trainer to my list of acceptable Asics models. I'm surprised I slept on these for this long! Overall, I'm loving these Kayanos and I really recommend these for someone that wants to try a new shoe out from Asics.
Where To Cop the Asics Gel-Kayano Trainer Atomic Blue
As of the writing of this article, eBay is your best bet for these.
I've also seen pairs on Amazon for under retail.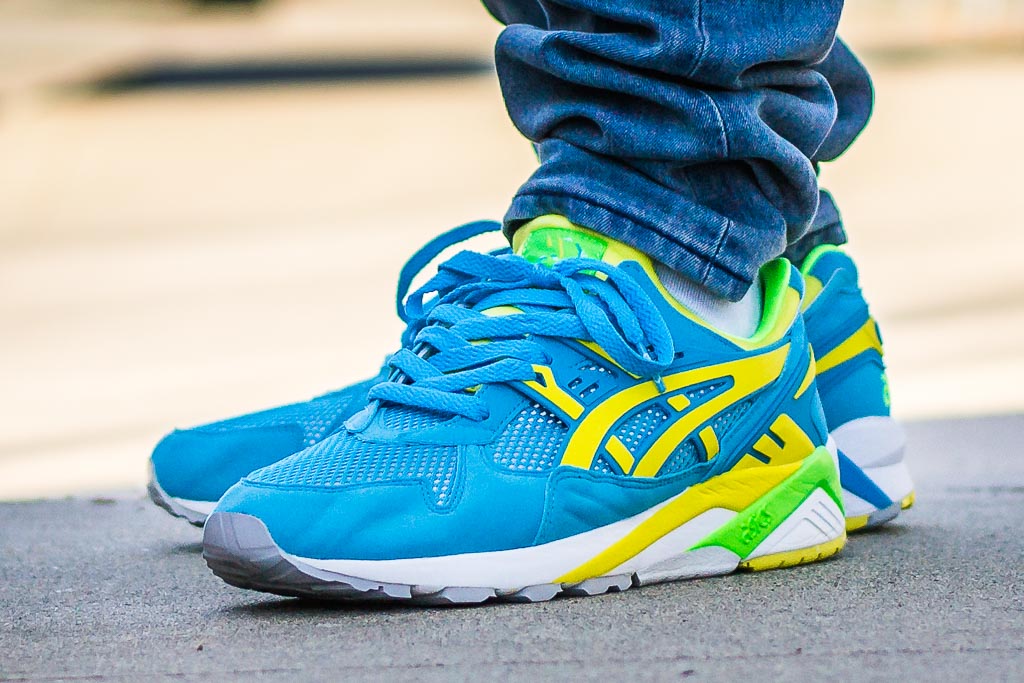 Asics Gel-Kayano Trainer Atomic Blue
Colorway: Atomic Blue / Blazing Yellow
Style Code: H5E2Y 3807
Year of Release: 2015
MSRP: $130