WHERE TO BUY THESE
Filed Under:
Air Max
|
Sneaker Collection
|
Sneaker Videos
|
Top 3 Airmax
December 6, 2017
I've sported a few pairs of Air Max 95 on this blog, but the Air Max 95 Neon is probably the most important and iconic colorway of the model. These aren't a collab or anything, but they are an OG colorway. This particular version is a retro from 2010.
What To Sport These With?

These are a little tougher to match up than you would think. The shoe is essentially a black, grey and white shoe with neon yellow hits. The two ways I've found to handle it are either dark blue or black denim and a black or grey tee depending on the wash of the jeans and how it all goes together. In this case I went with some distressed black jeans and a black longsleeve from Supreme.
How Are The Materials?
Similar to other GR 95s, the materials are not that great on this retro. On older pairs, the suede seems a lot better. In this case, we get that wack felt suede that Nike throws on many of their GR's. This suede should be outlawed! If you can get past that, these do offer some nice mesh and 3M hits to round out the look. These are definitely a colorway > materials type of shoe.
How Do They Fit?
The 2010 Air Max 95 Neon is fairly comfortable and fits true to size for me. I've tried sizing down a half size before on a pair of 95s and they crushed my toes. I find the back of these a little stiff at first, but these break in to be a decently comfortable retro runner. All in all these supply solid support and are comfortable enough to warrant a purchase.
If you want to get just one color of the Air Max 95, I highly recommend this colorway. It is the most iconic and tends to retro every couple of years. I used to have an older pair that I beat to the ground once I was able to pick up the newer retro. This to me is the one good thing about Nike rereleasing the same colorways over and over again.
Where To Cop the 2010 Air Max 95 Neon
As of the writing of this article, Amazon or eBay
are your best bet for these.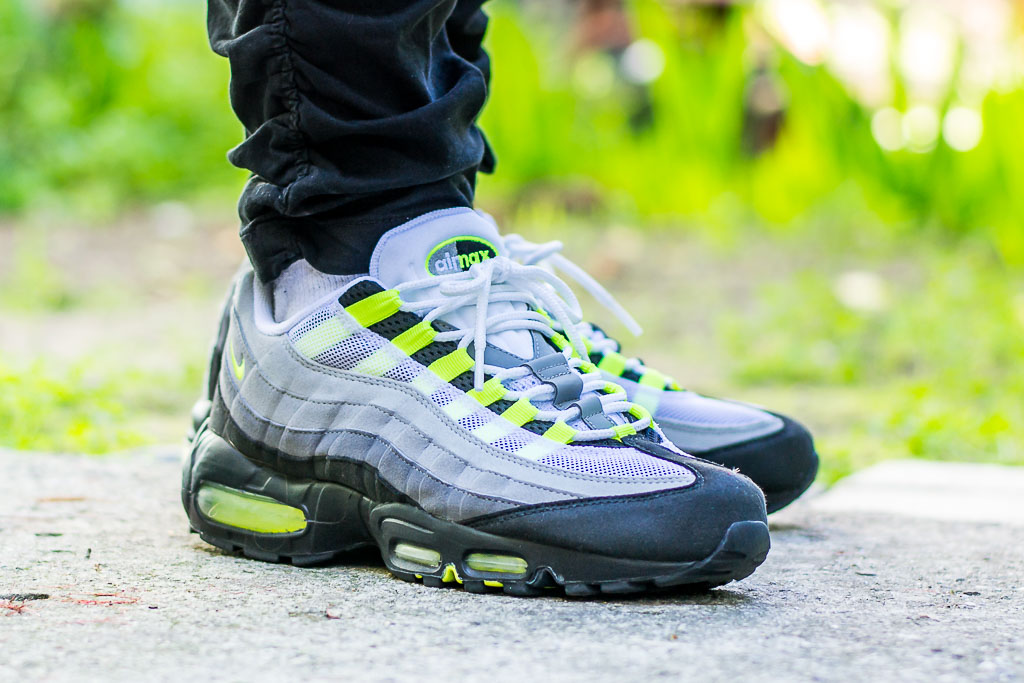 Air Max 95 Neon
Colorway: Cool Grey / Neon Yellow
Style Code: 609048 072
Year of Release: 2010
MSRP: $145