WHERE TO BUY THESE
Filed Under:
Air Jordan
|
Sneaker Collection
|
Sneaker Videos
November 9, 2017
This 2010 release is actually a retro of a non-original colorway! The "OG" Cool Greys released in 2001 and use some different materials (more on that below) than the traditional AJXI. These 2010 Air Jordan XI Cool Grey retro come in a special grey pull out drawer style box with some grey plastic shoe trees, a plastic overlay and special tissue paper. You can tell the newer version via minor shape differences and a slight blue tint to the outsole.
What To Sport These With?

I'm a big fan of 11s and the Cool Greys are just a great neutral pair of kicks to wear. In this case, I went with a long sleeve white tee and some light wash jeans. I also threw on a light grey beanie to balance the outfit out. The danger with a shoe like this is looking too drab or "grey". Which sounds weird, but that is a thing. I can also see these being worn with some black denim and a dark top.
How Are The Materials?
The main difference between these and traditional AJXI's is the swap of mesh for a nubucky-suede upper. These still keep the trademark XI patent leather wrapping around the toebox and above the midsole. The material quality on these is good! The construction seems solid, and while I'm usually not wowed by AJ11 materials, these definitely pass mustard.
How Do They Fit?
The Air Jordan XI Cool Grey fit a little snug. While these are somewhat stiff compared to pretty much anything else besides a Jordan retro, they are still comfy enough to rock on a consistent basis. To be honest, Air Jordan 11s for me are more shoes to stunt in for brief periods of time rather than hang out in all day for comfort.
And I do try to wear these at least 1-2x per year because the glues can dry out and the midsole and sole can separate if the shoe is left unworn for long periods of time! I highly recommend getting a pair of these if you're into Jordans, but only if you can wear them often enough for them to stay together!
Where To Cop the Air Jordan XI Cool Grey
As of the writing of this article, you can find these on eBay
in a wide range of prices from $150 – 300 depending on condition.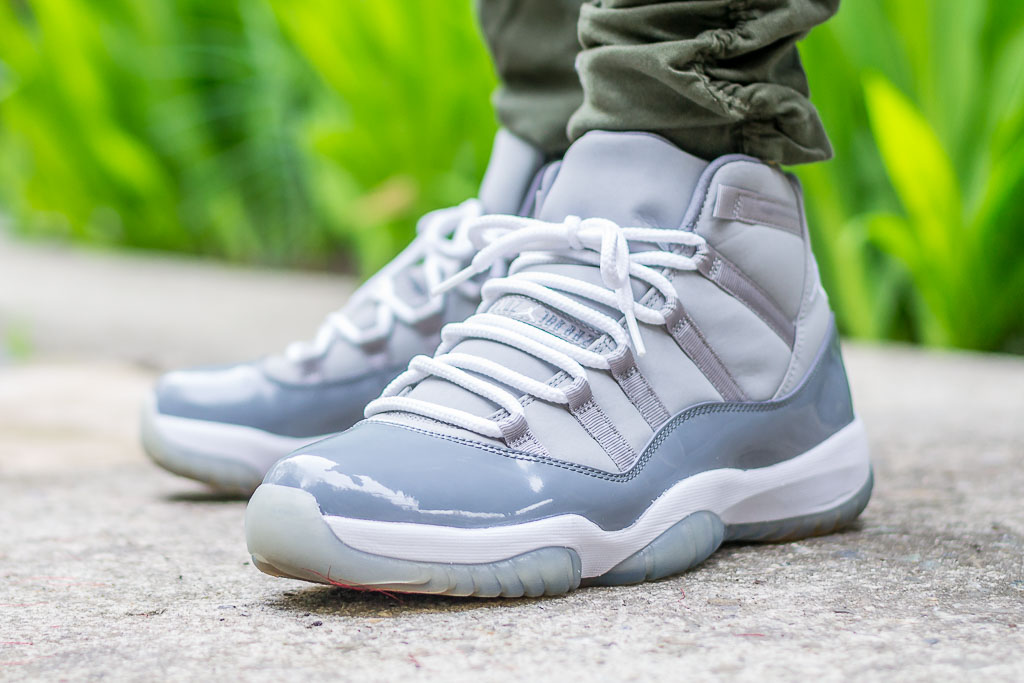 Air Jordan XI Cool Grey
Colorway: Medium Grey / White – Cool Grey
Style Code: 378037 001
Year of Release: 2010
MSRP: $175