WHERE TO BUY THESE
Filed Under:
Air Jordan
|
Sneaker Collection
|
Sneaker Videos
September 12, 2017
I already did a review on the white version of this shoe, and now comes arguably the more popular colorway, the Air Jordan 6 Black Infrared. While both are OG colorways, they both give off a different vibe. One cool thing about the black infrared colorway is that the 3M shining through the holes on the side and ankle area is a lot more noticeable through the black upper.
What To Sport These With?
These are mostly black with slight infrared hits, so I go with army green, camo or dark denim with these and pair it with a black top. A dark outfit does wonders with the black/infrared colorway on the 6.
How Are The Materials?
I honestly like the materials on these. The all-suede upper easily beats the suede used on the recent Carmine 6 retro. While the shoe isn't "remastered" like the Maroon 6 retro from last year, it is still a really well put together shoe. Nike's quality control is notoriously inconsistent, so your mileage may vary, but my pair doesn't have any glue marks or messed up shape to it.
How Do They Fit?
The Air Jordan 6 Black Infrared fit slightly large at true to size. For a retro Jordan, these are fairly comfortable. I have no complaints on the fit, and I think these look really unique on foot. Besides an unnecessarily complicated lacing system, these are really fun to sport around.
Both infrared 6s I own are the relatively recent retros from 2014 which some say are "not as good" as the original versions. I am stoked to own this colorway even if the materials, shape and tone of the infrared are all less desirable by collectors than their older counterparts. I still highly recommend picking up a pair from a collector standpoint and in terms of quality, comfort and wearability.
Where To Cop the Air Jordan 6 Black Infrared
As of the writing of this article, eBay is your best bet for these.
. I've also seen these on Amazon. Wherever you cop, watch out for fakes!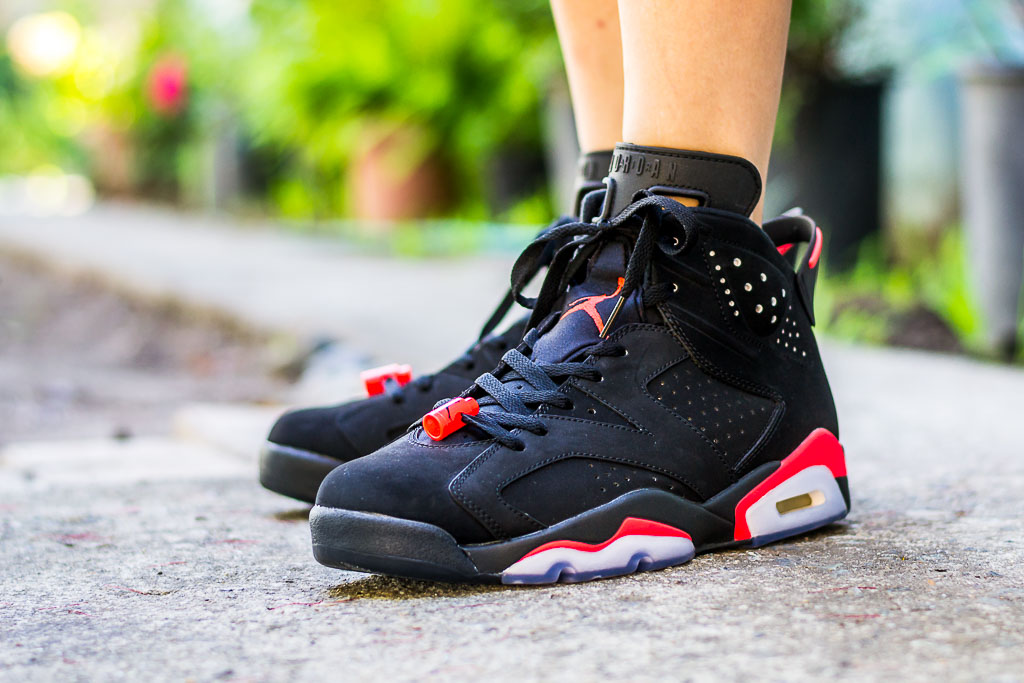 Air Jordan 6 Black Infrared
Colorway: Black / Infrared 23 – Black
Style Code: 384664 023
Year of Release: 2014
MSRP: $185