WHERE TO BUY THESE
Filed Under:
Adidas
|
Sneaker Collection
|
Sneaker Videos
March 14, 2017
At one point, I had a huge collection of this model. Why did I sell?! I wish I hadn't ditched them all, but I at least kept these Adidas Busenitz White Gum in the stacks. When I was featured in Solecollector Magazine, it was thanks to the large amount of colorways of these that I had. This particular pair is billed as a "Size? exclusive" (as in UK Store Size?), yet were sold in other stores. Very odd. Regardless, I think this is a super clean colorway of these and I'm glad to at least still have these in the collection.
What To Sport These With?
These go great with a light colored outfit. Some light wash denim and a light grey or white top and you're good to go. I think some dark blue jeans and a black crewneck would also work in a pinch for these.
How Are The Materials?
The quality on these is really good! Surprising for a GR, actually. We have a nice leather covering the upper, with the upper rear and 3 stripes in a really soft suede. The materials are overall really nice – they make me want to investigate newer releases on this model.
How Do They Fit?
These Adidas Busenitz White Gum fit true to size and are very comfortable. The inner lining is a fuzzy textile that is super cushy and feels a bit like a tennis ball. The only thing to get used to is the long, thin tongue. However, I wouldn't recommend cutting the tongue down like some do. A better idea is to figure out how to get the tongue to work with your style. In any case the Busenitz is a great shoe. Even typing this, I honestly am feeling like building up another collection of Busenitz!
Where To Cop the Adidas Busenitz White Gum
As of the writing of this article, eBay is your best bet for these.
If you don't need this exact colorway but just want a pair of Busenitz that's easier to get, check out Amazon, End Clothing
and Ubiq
.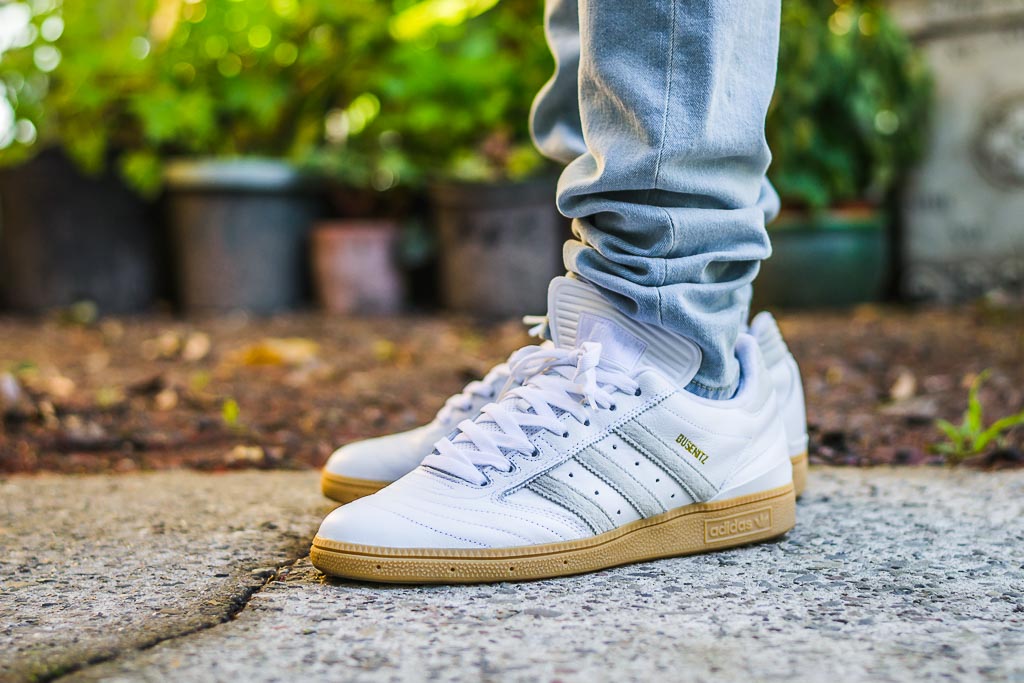 Adidas Busenitz White Gum
Colorway: Feather White / Feather White / Gum3
Style Code: D69124
Year of Release: 2015
MSRP: $80